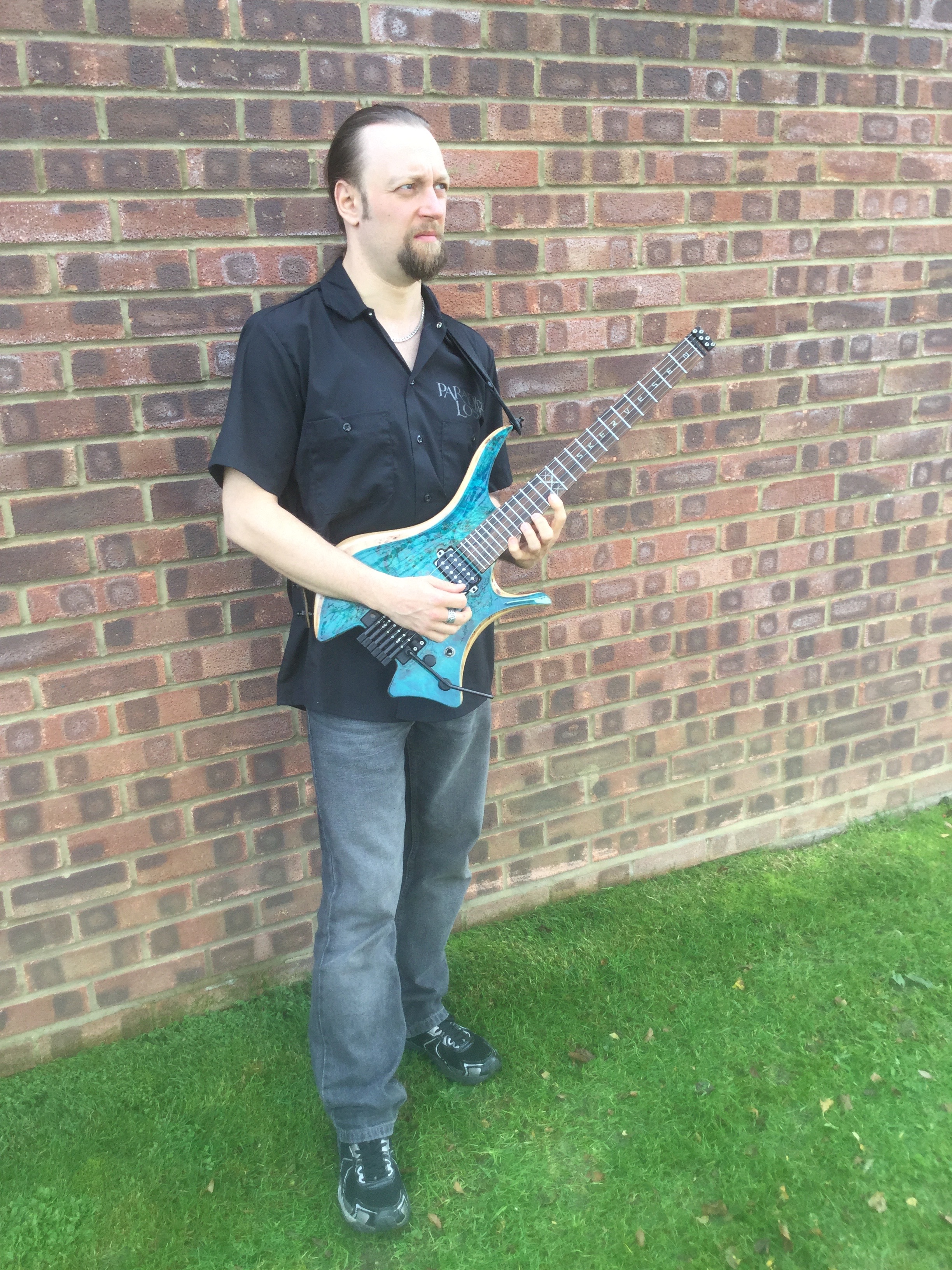 Steve first picked up the guitar in 1993 and has never looked back. In 2002, he graduated from Cambridge Regional College with a BTEC National Diploma in Contemporary Popular Music, and later passed the Rockschool Grade 8 Electric Guitar Exam with Merit in 2007. Steve's achievements in his career include working with legendary producer Pete 'Pee Wee' Coleman (AC/DC, Tears For Fears, Napalm Death) and recording at Division One Studios in Gothenburg, Sweden. Other studio work includes sessions on guitar, bass and drums for The Wolves Of Avalon, a project featuring members of Hawkwind and The Meads Of Asphodel and, most recently, on the score for Nephilim, an animated feature length film which saw Steve performing guitar and bass alongside the Prague Philharmonic Orchestra. Steve is also the lead guitarist for Hertfordshire hard rocker Tommy Justice, North London party/covers band Missing Cat and the drummer for Essex function band Radio Video. Steve also appears in musical theatre and is  one of two guitarists performing in theatres all over the UK and overseas for 'Forever Jackson', voted the UK's No.1 tribute show to Michael Jackson. As well as this, Steve also became the guitarist for the brand new 2017 theatre show 'Get Ready' performing all the biggest Soul/Motown hits from the golden age, and is also appearing nationwide in 'WestRock', performing all the classic American Rock Hits from the 70's/80's/90's. Steve's own musical project 'Arise From Ashes' released their debut album in 2015.
Steve has performed at major venues all over the UK including JB's (Dudley), Fibbers (York), Trillian's (Newcastle), The Garage (Highbury), The Monarch (Kentish Town) and multiple stints at the famous Camden Underworld. Other gigs include Dong Open Air 2004, Krefeld, Germany (first ever UK artist to perform there), the Bloodstock Indoor Festival 2004 and the first ever Bloodstock Open Air Festival in 2005. Steve has also performed at the prestigious Weyfest, Farnham, UK for four consecutive years (2011, 2012, 2013, 2014), undertaken a full headlining UK Tour and shared the stage with acts such as Children Of Bodom, Edguy, Paradise Lost, Masterplan, Raging Speedhorn, Kill II This, Skindred, Panic Cell, Evile, Jeff Scott Soto, Gizz Butt, The Answer, Martin Barre, 10cc, Asia and Limehouse Lizzy.
Steve began teaching guitar in 2007 and is an RGT Registered Tutor, teaching both the RGT and Rockschool Syllabus, achieving a 100% pass rate with all his students who have taken exams. Constantly striving to improve, Steve is also a student himself, and has spent the last four years studying under the tutelage of world renowned US Jazz/Fusion virtuoso Derryl Gabel.
Aside from music, Steve enjoys reading, cooking and keeping fit.
Discography 
Humanity- 2 Track Demo (2000)
Humanity- As Humanity Fades EP (2001)
Humanity- Justify EP (2002)
Humanity- When Silence Calls (2004)
Awake- Illumination (2006)
Absynth- Luminescence- Guest Guitar Solo (2008)
Sports Instructional DVD Series- Play Modern Tennis (2008)- Composed Theme Tune
Self Inflicted- Follow Me Down EP (2010)
The Wolves Of Avalon- Carrion Crows Over Camlan (2011)- Session Drums, Session Guitars and Composition of the track 'Britain Is Fallen'.
Voices From Valhalla- A Tribute to Bathory- Compilation featuring The Wolves Of Avalon (2012)
Tommy Justice- Hysteria (Def Leppard Cover) (2013)- Performed all instruments. 
Tommy Justice- Sultans Of Swing (Dire Straits Cover) (2014)-Performed all instruments. 
Tommy Justice- Simply The Best (Tina Turner Cover) (2014)- Performed all instruments. 
The Wolves Of Avalon- Boudicca's Last Stand (2014)- Session Guitars. 
Nephilim- Motion Makers Animated Film (2014)- Session Guitars and Bass on Film Score.
Arise From Ashes- Arise From Ashes (2015)
The Wolves Of Avalon- Across Corpses Grey (2015)- Session Drums and Guitars. 
Tommy Justice- Rockturnal (2016)- Session Drums, Bass, Guitars.
Qualifications
BTEC National Diploma in Contemporary Popular Music (Cambridge Regional College)
Rockschool Grade 8 Electric Guitar (Trinity/Guildhall)
Guitar Maintenance Stage 1 Certificate (Chris May- Overwater Basses)
Guitar Maintenance Stage 2 Certificate (Chris May- Overwater Basses)